*  *  *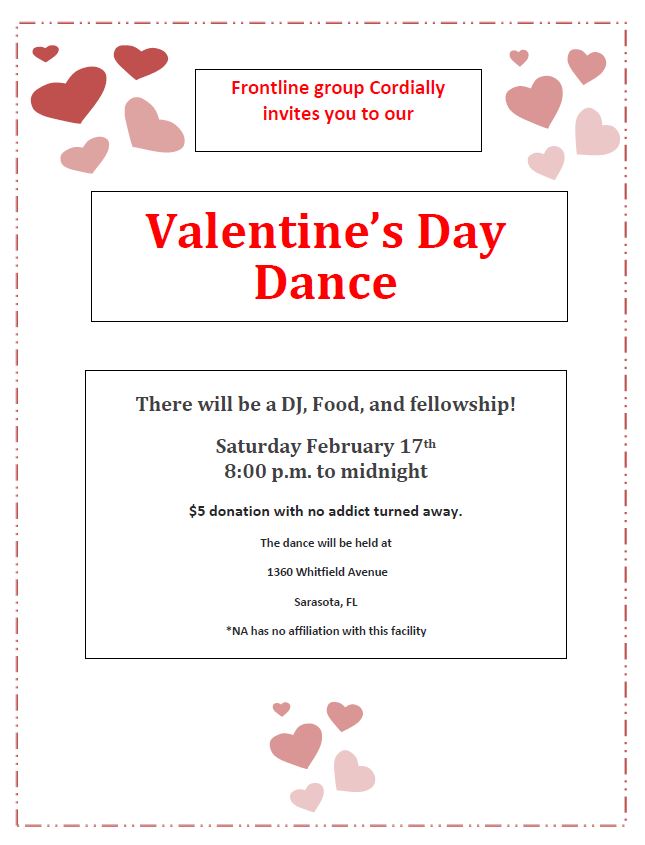 *  *  *
2018 Electronic CAR, CAT, and Literature Voting Forms
The 2018 CAR Voting process has started and the electronic voting has been released.   In order to accurately tally the votes, the group voting must be registered with NAWS.  Only one vote per registered homegroup is counted, so if you have multiple individuals representing your group, please get together and choose one person to carry your group's vote.

There are three forms available for online voting:

 

The first form is for the twenty-five 2018 CAR motions, which is for registered groups to vote on. This link is below 

(Note: Electronic voting will close at 

midnight

 on 

Friday, March 16th, 2018

; the day before the start of the GSR Assembly)

The second form is the NAWS Literature surveys to determine what service, recovery, and idea discussion topic literature should be focused on. Any member of NA may vote for these literature pieces to convey their interest to NAWS.  Please forward this link to any member who may be interested in influencing how our literature evolves.

The third form is the Conference Agenda Track Ballot and their associated motions, proposals, and questions.  This is for groups to vote on topics that will be discussed at the WSC so your AD and RD can best carry your conscience.

 

Thank you!  Looking forward to seeing you at the GSR assembly in March!
*  *  *
  *  *  *
The Fresh Start group, which meets Saturday at 7:30pm, is moving from the Sara Bay Baptist Church to a new location.
EFFECTIVE IMMEDIATELY, the new location is:
Bayshore Baptist Church, 6502 14th St. West, Bradenton.  Please spread the word!
*  *  *
As of November, 2017, we have a NEW Literature order form with updated pricing.  Please destroy any old forms your Homegroup may have on hand and begin using this form immediately.  Please announce this at all home groups to spread the word!  GSRs, please don't come to Area with the incorrect form! Click HERE for the new form.
*  *  *
As of November, 2017, FDC and Area Service are back to their originally scheduled times.  They will no longer be meeting as one group.  However FDC Sub Committee Heads are asked to attend both FDC and Area Service.
*  *  *
NEW MEETING!

"Get Hooked On Recovery" Wednesdays at 8:00 pm
Jiggs Landing's Fire Pit.
6106 63rd St E, Bradenton, FL
*  *  *
NEW MEETING!

"Now What?"
6:00 p.m. Fridays at the St James Methodist Church, 2049 North Honore Ave., Sarasota
*  *  *
NEW MEETING!

Keep It Clean — Mt. Carmel Missionary Church
Address: 1301 2nd Ave W, Palmetto, FL 34221
Meets on Fridays at 7:00pm
and it's a Literature Study (It Works How and Why)
*  *  *
NEW MEETING!

  The Road to Recovery group meets every Wed at 8:00 pm.
It is an open meeting, located at the
Bradenton Salvation Army – 1204 14th street, West Bradenton
*  *  *
The Admission of defeat group on Thursday night @ 8:15 pm
has changed it's format to a rotating schedule.
*  *  *
New Men's meeting Tuesday nights!
Reelin' in Recovery 6:oo pm in the Gym (Southernmost Bldg) at Saints Peter & Paul the Apostle Catholic Church
2850 75th st. W. Bradenton
*  *  *
New Literature Meeting at Siesta Beach, South Pavilion: Living The Literature
Friday 6:30-8:00
Speaker 1st Friday of the month.
*  *  *
Suncoast Area of NA will have a Bowling Night on second Friday of every month.
Please see the flyer HERE.
*  *  *
The Saturday Night Speaker homegroup is in need of homegroup members.  Please give this gift away by being of service to our fellow NA members.  This homegroup meets Saturday nights at 7:00 pm at First Step Residential, 4613 N Washington Blvd, Sarasota.
*  *  *
For those of you who want to be involved in H&I, but cannot make it to Sunday Area Service for the orientation, there will be a weekday H&I orientation prior to the "Admission of Defeat" meeting on the first Thursday following Area Service.  The meeting will take place at 7:30 pm.  See the meeting schedule for the meeting address.
*  *  *
If you want to get involved with the Activities Committee, they meet regularly at 3:00 PM on the day of Area Service, in the same venue.
*  *  *
All members are welcome to attend and participate in Fellowship Development.  Your voice is important.  Please help us carry the message that any addict can get clean, lose the desire to use and find a new way to live. There are many areas of service available to volunteer your talents that do not require substantial clean time.  All that is needed is a desire to help.  See HELP WANTED for open positions.
*  *  *
If your group has any announcements, feel free to use the contact form on the "contact us" page to get in touch with the Area IT Coordinator, or you can email webservant@suncoastna.org and we will try to accommodate! Announcements
MUST

be for the good of the fellowship. This may include changes to your meeting time or location (temporary or permanent), upcoming recovery events (flyers will be posted with ASC approval), or ASC/FDC business announcements!